---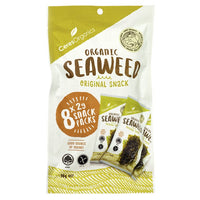 Nutrient-rich seaweed snacks from the deep blue. Lightly roasted and SEAsoned, they're a tidal wave of taste and iodine. So-fish-ticated snacking. Did we go overboard on the puns?
The same seaweed snacks you know and love are now available in a convenient multi-pack.
Made with top quality certified organic ingredients this Nori Seaweed is an ideal on-the-go snack, 2 grams is the perfect size for a salty-seaweed hit. Plus, no plastic trays are needed with this smaller pack.
Throw a pack in your gym bag, your kids school bag, your pets carry bag, your Santa sack - they fit in all these places!
Good source of iodine, vegan, sugar free, no MSG or preservatives.
Product of South Korea. Net weight 16g (2g x 8 packs).